Towing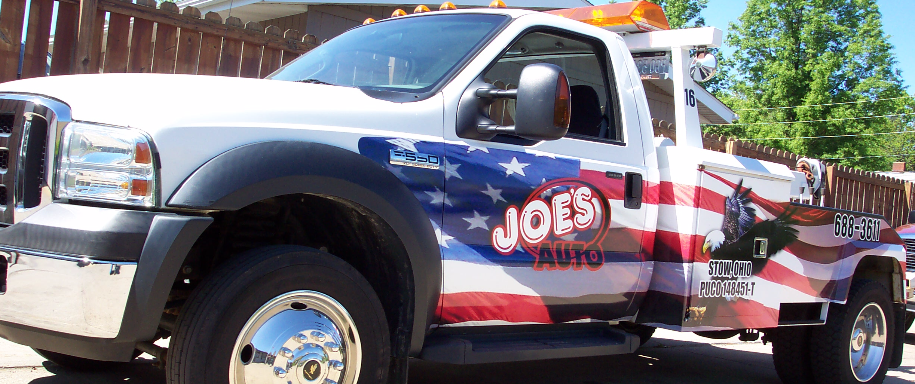 Creative Commons Get Towed by Emran Kassim — Reuse Under CC BY License
Joe's Auto is the best choice for all of your vehicle towing needs. As the premier towing company in the Akron area, we offer a complete range of services to include roadside assistance, accident recovery & winching, flatbed, motorcycle, long distance, and emergency towing.
Offered Towing Services
Listed below are links to the specific towing services that are offered by Joe's Auto to those in the Akron area in need of assistance.
Our tow truck operators are experienced, use equipment that is state-of-the-art, and are committed to complete vehicle safety and overall customer satisfaction. Joe's Auto is the trusted company in the Akron area when it comes to roadway emergencies.
Why hire Joe's Auto for Your Towing Needs?
Joe's Auto understands that when stranded on the roads around the Akron area, time is of the essence. We pride ourselves on the efficient and prompt services offered by our towing company that assists in getting motorists back on the road as quickly, and safely, as possible.
Professional & Experienced Operators
The operators of our fleet of tow vehicles are professionals that are highly trained and have years of combined experience with moving and retrieving vehicles. Our team possesses the skills to tow all types of vehicles - including cars, trucks, motorcycles, and RVs - with the utmost precision & care.
24/7 Emergency Assistance
Day or night, Joe's Auto knows that vehicle breakdowns and accidents can happen in and around the greater Akron area. As such, that is exactly why our towing company is ready 24/7 to offer a complete range of emergency and roadside assistance services. So, no matter the time of day or night, Joe's Auto is ready to dispatch a truck to offer assistance.
Complete Roadside Assistance
The services offered by Joe's Auto go beyond that of offering to tow. Joe's Auto provides a complete range of services for all of your roadside assistance needs. From flat tire changes, to fuel delivery, jump-starts, lockouts, and more, Joe's Auto can be depended upon to get you back behind the wheel quickly and safely.
Damage-Free Towing
As the best choice for towing in Stow, Joe's Auto has earned our reputation by prioritizing vehicle safety during transport. Our fleet of tow trucks is modern and is equipped with only the latest in technology. This provides transport that is damage-free and secure to the needed destination.
Complete Transperancy
When hiring Joe's Auto for a tow in the Akron area, our clients can expect nothing short of transparent prices and fair service, with upfront quotes having no hidden fees included. Our goal is to offer services that are reliable at competitive rates, with the ultimate purpose of ensuring peace of mind and value for the dollar.
Joe's Auto will not let an accident totally ruin your day. Contact us now if in need of professional, reliable, and prompt towing services anywhere in the greater Akron area. Our team of professionals is standing by 24 hours a day, 7 days a week to get you the help you need. Regardless of needing immediate roadside help, or just needing a dependable towing company, Joe's Auto is ready to help you.